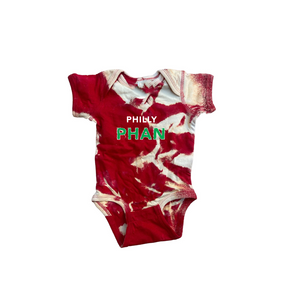 Philly Phan Onesie
Introducing Philly Phanatic themed onesie, an exciting addition to our collection! Show your love for the Phils with this comfortable and stylish onesie that features a cute and fun print of the iconic Philly Phanatic. Whether you're snuggled up at home or cheering on your team at a game, this onesie is the perfect choice for any Phillies fan.

Made with high-quality materials, this onesie is sure to provide ultimate comfort and durability, no matter how many times you wear it. The fabric is soft to the touch and gentle on your skin, guaranteeing a comfortable fit that will keep you cozy all day long. Plus, its vibrant colors and detailed print make this onesie a true standout piece.

The Philly Phanatic themed onesie is the perfect gift for any Philly fan.

So why wait? Order your Philly Phanatic themed onesie today and show your support for the Phils in style.